TMCA's Outstanding Credentialed Mediator for 2023--Walter Wright
Walter Wright
TMCA's Outstanding Credentialed Mediator for 2023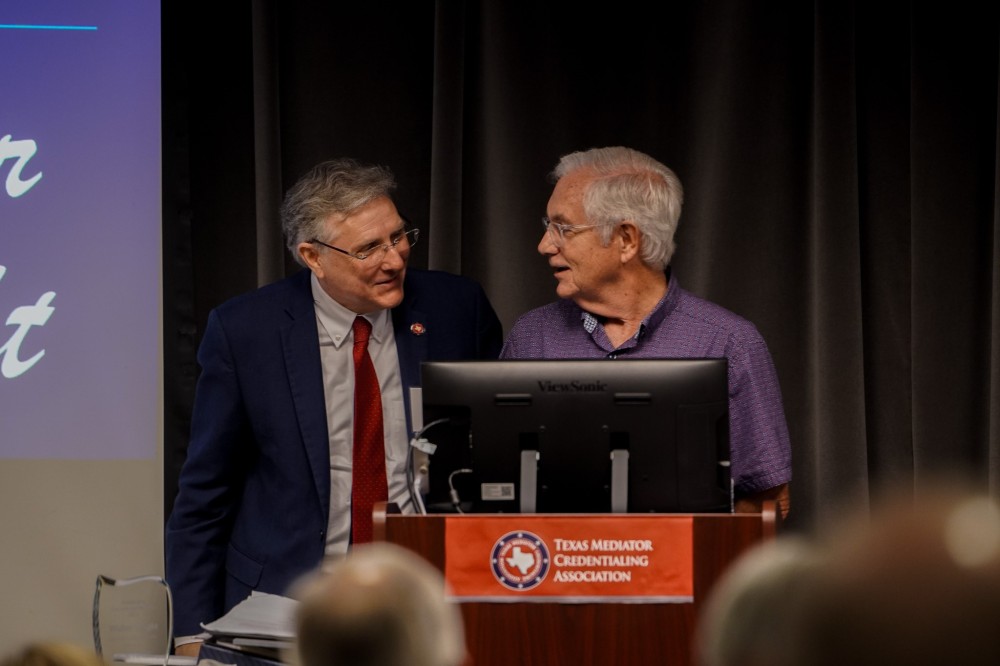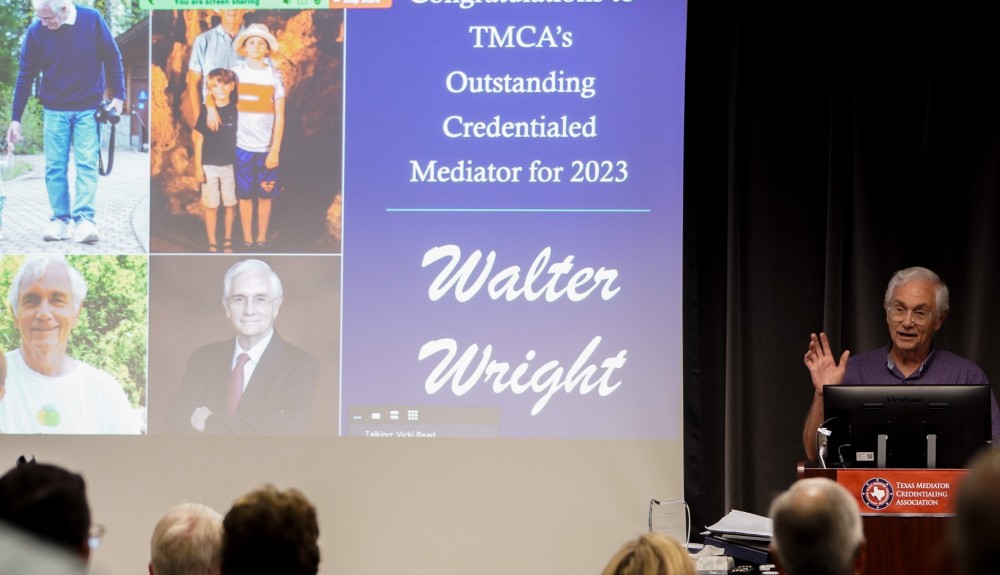 From John Palmer, as he presented this award to Walter Wright:
TMCA's Outstanding Credentialed Mediator Award was created in 2015 to recognize past and current Credentialed mediators in Texas who exemplify the finest qualities one could expect of an outstanding mediator who adheres to the highest level of ethics, and who is dedicated to making extraordinary contributions to the promotion of quality mediation throughout Texas.
This year's recipient, Walter A. Wright, exceeds the criteria for this Award.
In the words of Credential holders Sharon Parisi and Jane Stephenson, who nominated this recipient, "He can be described as a 'Mediator's Mediator.' He is approachable, willing to converse on dispute resolution, willing to mentor new mediators and willing to help TMCA. He tirelessly promotes mediation with the State Bar of Texas and steps up to do presentations whenever there is need for speakers at a Dispute Resolution event. Walter demonstrates his devotion to the field of mediation by teaching it, encouraging it, writing about it, assisting other mediators and mediating. And he does all of this in two languages."
Walter is a teacher, a mentor, and a leader and fierce advocate for quality and ethical mediations and dispute resolution.
As a teacher and mentor, Walter:
serves as an adjunct professor of alternative dispute resolution in Texas and Spain
conducts basic training courses in mediation for several Dispute Resolution Centers in Texas
mentored over 600 Applied Research Projects and 80 student publications
speaks and conducts workshops on legal and ADR topics in the United States, Spain, and Latin America.
As a leader and fierce advocate for mediation quality and ethical mediations, Walter:
is a TMCA Credentialed mediator
served as a former president of the Texas Association of Mediators and the Association of Attorney-Mediators, and as chair of the International Section of the Association for Conflict Resolution
published over 110 articles and book chapters on dispute resolution in the United States, Italy, Spain, and several Latin American countries
tirelessly worked on clarification of a mediator's role in the drafting process of mediated settlement agreements, obtaining, in August 2018, worked with all Texas mediator groups in submitting a comment to Ethical Guideline 14 as to a mediator's role in memorializing agreement to the Texas Supreme Court Advisory Board
The nominees of the recipient further state Walter "has raised the bar for all mediators through his encouragement and enthusiasm in the field and is an example for us to follow."
Congratulations to the 2023 TMCA's Outstanding Credentialed Mediator, Walter A. Wright!
"That is why the inscription on this year's award reads:
Outstanding
Credentialed Mediator
2023
Walter Wright
Extraordinary & Beloved Teacher
Prolific Author
Advocate for Mediation Accessibility to ALL Cultures