TMCA's Outstanding Credentialed Mediator for 2021--Alvin Zimmerman
Alvin Zimmerman
TMCA's Outstanding Credentialed Mediator for 2021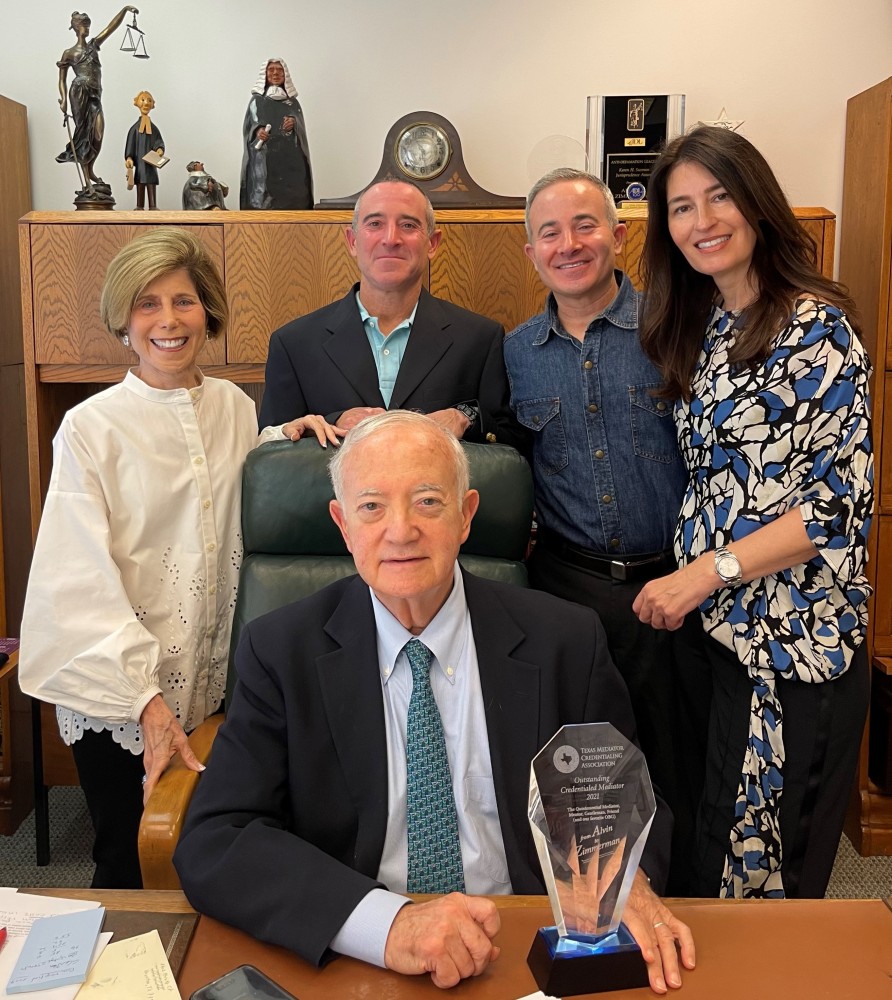 TMCA's Outstanding Credentialed Mediator Award recognizes past and current Credentialed mediators in Texas who exemplify the finest qualities one could expect of an outstanding mediator who adheres to the highest level of ethics, and who is dedicated to making extraordinary contributions to the promotion of quality mediation throughout Texas.
The award has been awarded annually since 2015.
This year's recipient exceeds the criteria for this Award. His first name is Alvin, and just like the chipmunk, he is high energy, can be mischievous, and is apt to sing a song at any time. Unlike the Chipmunk, he is human, of course, and he is a mediator and past judge dedicated to his family, his friends, his community, and the art and profession of mediation.
First and foremost, Alvin is a family man, and he is devoted to his better half, Susie, and his two sons, Brian and Gary, with whom he practices law.
Alvin Zimmerman has given his entire life to justice, serving as an appointed and elected judge in the 1980s, and then a dedicated mediator, arbitrator, mentor, teacher, and community leader.
Alvin is the GOAT (Greatest of All Time), but also an OBG (Oldie but Goodie).
He was licensed as an attorney in 1967. He has presided as a state district judge of the 269th (Civil) and 309th (Family) District Courts. He has also served as assistant attorney general for the state of Texas.
He is a Credentialed Distinguished Mediator by TMCA and a former TMCA Board member, and has conducted over 3000 mediations.
He served as chair of the ADR Section of the State Bar of Texas, and he received the Frank G. Evans Award as the outstanding ADR Professional in 2016 from the State Bar of Texas – ADR Section for his dedicated service to the profession.
Alvin is a former President and Emeritus Member of the Board of Directors of the International Academy of Mediators.
He is a frequent presenter in the field of ADR in Houston and statewide. He has also been an Instructor at the AA White ADR course.
Alvin is active and devoted to equality, education, and community service. For example, he received the Anti-Defamation League's Karen H. Susman Jurisprudence Award, which is presented annually to an outstanding member of the legal community who exhibits an exceptional commitment to equality, justice, fairness, and community service.
Alvin received the University of Houston Distinguished Alumni Award in April 2009. He has also served on the Board of Directors of the Houston Symphony Orchestra.
Talking about music, Alvin sings a song of settlement for those for whom he mediates.
Here are a few testimonials…
One attorney stated:
"For at least 35 years, he has been 'on my list' as a mediator, regardless of the nature of the disputed matter. Why? Intelligence, patience, honesty, humility, and people skills.
"My first mediation with him settled because Alvin convinced four hardheaded, angry individual representatives to settle a construction case. He never raised his voice, never disagreed with anyone except through indirect questions posed in dulcet tones, and simply made the rounds for a full day. He was forthright about refusing to answer questions when it might have been easier to give a false answer to settle a case. My client, a very proud business school graduate, walked in prepared to offer no more than nuisance value but we ultimately kicked in hundreds of thousands of dollars. I don't know how.
"From interactions with opposing counsel, I know Alvin is universally respected as a leader and mediator."
Another attorney who uses Alvin as a mediator said:
"I have been mediating cases with this mediator since 1990. He is my 'go to' mediator. He is always well prepared. He has a seemingly endless repertoire of techniques available to achieve success. He adheres to the highest ethical standards, never compromising the process, the parties, or their counsel. Needless to say, he has settled more 'unsettlable' cases than any other mediator with whom I have had experience. Moreover, he is an absolute pleasure to work with.
"Focused as litigants are on the end result of the process, I must admit that I often overlook another extraordinary quality of this mediator: his leadership in promoting mediation as a dispute resolution tool. As an author, speaker, and teacher, there is no better spokesperson for mediation. As a daily practitioner, there is no better example of the benefits mediation can provide than this mediator."
Finally, award-presenter John P. Palmer's perspective: "I have had the honor to get to know Alvin while he served on the TMCA Board as the ADR Section Representative. Even though he is a former Judge, epic mediator, arbitrator, and accomplished and respected lawyer, he was willing to work on a Board with a smile, and usually a song, and I never heard a complaint. When he says he will get it done, it gets done. He does it so effortlessly, even though I know the task takes time, toil, and effort."