TMCA's Outstanding Credentialed Mediator for 2020--John P. Palmer
John P. Palmer
TMCA's Outstanding Credentialed Mediator for 2020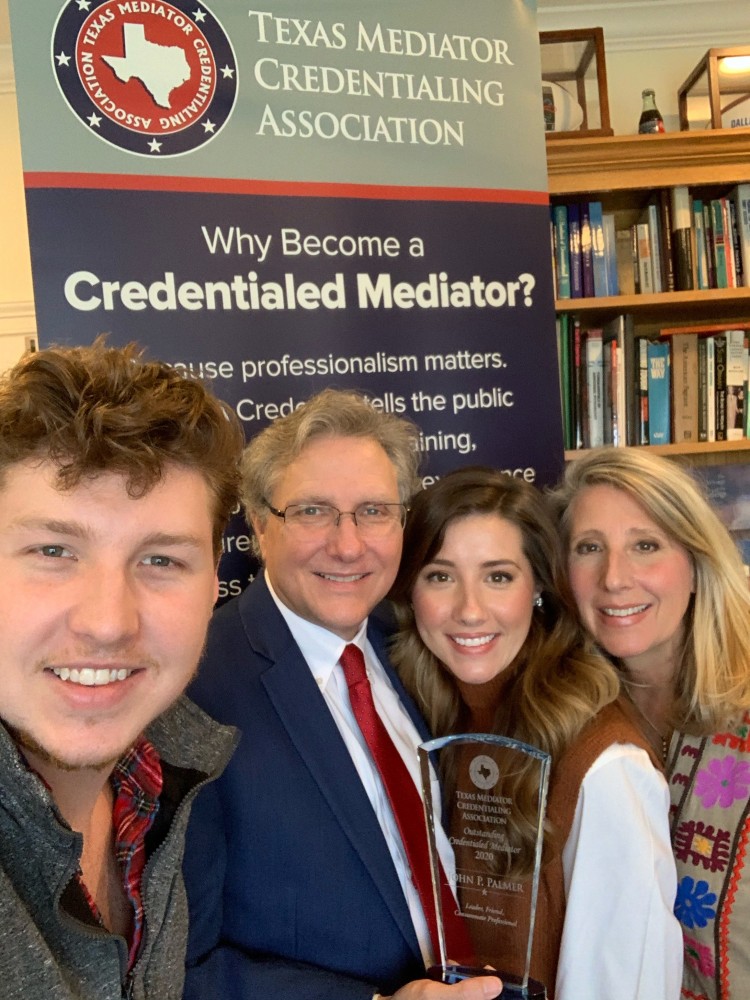 This award recognizes past and current TMCA Credentialed mediators in Texas who exemplify the finest qualities one could expect of an outstanding mediator who adheres to the highest level of ethics, and who is dedicated to making extraordinary contributions to the promotion of quality mediation throughout Texas.
These qualities are recognized in leadership, professionalism, and friendship. We find all of these and more in John Palmer.
John is a leader of the highest quality. Leadership is a responsibility. It requires the ability to communicate and establish rapport under a variety of circumstances and to focus, listen, and act upon what one learns. John is a motivator who has the distinct ability to dialog with others whereby they feel as if he is an old friend not just a new acquaintance. He lets you realize that he is interested and committed to the conversation regardless of the topic. John's method of stimulating and motivating conversation is a beautiful trait. John has always unselfishly sought to improve his surroundings. These skills make John an effective leader and he has brought those skills abilities to his work in mediation. John's leadership in mediation has extended to every mediator organization in Texas, and the influence of his leadership has left its mark in this State and well beyond. His contributions to the field of mediation and the work that we do are truly timeless.
John is the consummate professional. He is a step above. He touches you with his sincerity and enthusiasm and inspires others to commit their energy to improving their environment. John is blessed with a state of mind dedicated to assisting others in achieving their goals. He shares the expectations of others through gifted conversation and then helps to motivate them toward achieving their goals. He is a person who has devoted his life to making his surroundings better, whether people, organizations, or mediation in general. John's dedication to the enhancement of the mediation profession and his work to promote the quality of mediation in Texas pre-dates his appointment in the 1990s to the original credentialing committee, which ultimately became TMCA. To know John Palmer is to know the consummate professional.
John is a friend beyond all friends. With John, friendship is an essential part of his life born with unique style of conversation. He is a committed listener and truly focuses on the other party. He makes lasting friendships by showing his commitment to others. Once he establishes a relationship with someone it is there for life. The bond of companionship is conversation and with it John makes lasting friendships. He perks interest by engaging in a true participatory conversation that allows others to shine. In law, mediation, and life John embodies the highest ethics. John is a true friend to this profession.