TMCA's Outstanding Credentialed Mediator for 2016--Frank G. Evans
Frank G. Evans
TMCA's Outstanding Credentialed Mediator for 2016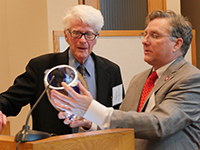 click to enlarge
The year is 1978. Picture yourself then…38 years ago. Where were you? What were you doing? Nearly four decades ago, did you even know what mediation was? Could you possibly have even imagined, then, that 38 years later you would be a mediator? Could you possibly have comprehended the role mediation would play in Texas jurisprudence today? Could you have begun to fathom the role mediation would play today in education? In commerce? In health care? In virtually any field of human conflict?
Frank Evans could…and did. It was 38 years ago in 1978 that Texas Supreme Court Chief Justice Joe Greenhill called upon Frank Evans to find ways to reduce congestion in the dockets of the trial and appellate courts of Texas. Chief Justice Greenhill had attended the Pound Conference two years earlier, and was impressed by the concept of the "multi-door courthouse" introduced there by Harvard law professor, Frank Sander. It provided alternatives to litigation for the resolution of disputes. He was also impressed by the U.S. Justice Department's creation of neighborhood justice centers in Los Angeles, Kansas City, and Atlanta; and by the efforts of the American Bar Association to promote the use of mediation. Chief Justice Greenhill wanted Texas to join the vanguard in the establishment of ADR. He could have chosen anyone to lead the charge and, fortunately, he chose a man of incomparable vision and imagination: Frank Evans, then a Justice on the Houston First Court of Appeals.
It was Frank Evans who was created, and was the founding chair, of the Houston Bar Association's Special Committee on ADR.
It was Frank Evans who got the Houston Bar Association and Harris County to create and fund the Houston Neighborhood Justice Center in 1980.
It was Frank Evans who got the Harris County DA's office to refer citizen complaints for mediation.
It was Frank Evans, by then Houston's First Court of Appeals Chief Justice, who played a role in the 1983 legislation that allowed counties to add $5 to the filing fee in civil cases to fund ADR systems in cooperation with their local bar associations.
It was Frank Evans, as the founding chair of the State Bar ADR Committee (now the ADR Section of the State Bar), who was involved in the introduction of legislation in 1985 promoting the expanded use of ADR.
It was Frank Evans who, along with then UT law professor Edward F. Sherman and then State Senator Cynthia Taylor Krier, drafted and got the legislature passed what we now all know as the Texas ADR Act.
It was Frank Evans who established a system of ADR-inspired settlement conferences for Texas appellate courts.
It was Frank Evans who established a juvenile justice system of peer mediation in Texas elementary and secondary schools.
It was Frank Evans who used the Texas ADR experience to introduce ADR elsewhere in the U.S., Central and South America, and Europe.
It was Frank Evans who was the founding director of the South Texas College of Law's Center for Legal Responsibility, now known as the Frank Evans Center for Conflict Resolution.
And that just takes us to the end of the last century! Since then, Justice Frank Evans has taken from imagination to fruition countless other applications for ADR. He has excited, involved, mentored, encouraged, taught, inspired, and touched the lives of everyone assembled here today, or involved in mediation in Texas.
No person in Texas has done more to advance the cause of ADR in general, and mediation in particular, than Frank Evans.
It is, therefore, altogether fitting and proper that we used the occasion of the first TMCA Symposium held in Houston to honor one of Houston's favorite sons, and the renowned father of ADR in Texas, Frank G. Evans, as TMCA's 2016 Outstanding Credentialed Mediator.